[All applications for US visa(s) are dealt with in-house by an attorney licensed by the bar association in USA and a member of the American Immigration Lawyers Association]
U.S.A IMMIGRATION SERVICES: 
Nexus Filing - USA/CANADA - for hassle free Border Crossing

NAFTA - Work Permits & Business Visas 

FBI Clearance

USA Border Crossing Reports - U.S. Customs and Border Protection

Apprehension by Border Patrol between Official Ports of Entry

Detentions, Investigation and Removals by Border Patrol 

I-94 - Arrival and Departure Record | Entry - Exit Records 

Petition Status 

Administrative Appeal on initial response to Information Request 
USA Non-Immigrant Visas for Workers and Businesses
L1 Visa Introduction
The United States L1 visa is a non-immigrant visa which allows overseas companies to transfer employees under two types of L1 visa schemes. For L1 visa transfers of executives and managers including business owners for up to seven years there is the L1A visa, and for specialized knowledge employees the L1B visa allows entry for up to five years to a new or existing US office.
To qualify for an L1 visa the employee, which can include business owners, must have worked for a subsidiary, parent, affiliate or branch office of the US company outside of the US for at least one year out of the last three years.
One of the benefits of the L1 visa is that there is no quota.   
Unlike in the case of the H1B visa category, an unlimited number of visas can be issued.  However, unless the company is a very large company with blanket filing a considerable amount of documentation needs to be submitted for each L1 visa petition to the USCIS in duplicate. Indians and Chinese nationals are able to come under the L1 visa category.  They are unable to come under the E2 visa and E1 visa which is limited only to certain nationalities.
Business owners can also apply for L1 Visa
This can be an excellent way for businesses including small businesses to expand into the US with a minimal investment.  However, the business outside the US should continue trading even after the L1 visa holder has entered the US.  Business owners who have worked for the business outside the US for one year in the last three years, wishing to set up a business in the US can apply without having to make a large investment of at least half a million dollars as required under the EB5 immigrant investor scheme.
There are two types of employee who may be sponsored for USA L1 visa
L1 A - Intra-Company Transfer - Managers and Executives

L1 B - Intra-Company Transfer - Specialized Knowledge Workers 
Family Members of L1 Visa Holders qualify for L2
L1 to EB1C Green Card 
Some executives and managers of foreign companies who are transferred to the US may qualify. A multinational manager or executive is eligible for priority worker status if he or she has been employed outside the US in the three years preceding the petition for at least one year by a firm or corporation and seeks to enter the US to continue service (in a managerial or executive capacity) to that firm or organization. The employment must have been outside the United States in a managerial or executive capacity and with the same employer, an affiliate, or a subsidiary of the employer. 
The petitioner must be a US employer, doing business for at least one year, that is an affiliate, a subsidiary, or the same employer as the firm, corporation or other legal entity that employed the foreign national abroad.
No labor certification is required for this classification, but the prospective employer must provide a job offer and file a petition with the USCIS.
E1 - Treaty Trader
Businessmen and their employees who are nationals of E1 Treaty Trader countries and whose business undertakes a significant amount of international trade between their home Country and the United States may qualify for this type of visa.
E2 - Treaty Investor
E2 Treaty Investor visa allows the investor to live and work in the US to direct and develop the business, and allows entry of Executive, Management and Essential skills employees
Other Visa(s)
E3 - [Australians only] - Speciality Occupation Professionals 

H1B - Speciality Workers 

H2B - Temporary Non-Agricultural Workers
Employment Based Immigration Visas [Green Cards]
Employment based immigration visas, or Green Cards, allow migrants to gain lawful permanent residence in the US in order to engage in skilled work.
EB1 
Certain multinational executives and managers 

Outstanding professors and researchers 

Those who have extraordinary ability in the sciences, arts, education, business or athletics
EB2
Three groups who qualify for the EB-2 visa, with different sub-categories for each:
EB-2(A): This category is for foreign nationals professionals with an 'advanced degrees' (masters degree or higher) and with a job offer from a U.S. company 
EB-2(B): This category is for foreign nationals with 'exceptional ability' in the sciences, business or arts and with a job offer from a U.S. company 
EB-2(C): This category is for foreign nationals with exceptional ability, or an advanced degree, who can show that their activities will substantially benefit the U.S. national interest
EB3
Skilled workers with at least 2 years of experience in their field 

Professional workers with at least a US baccalaureate degree or equivalent 

Some low skilled workers.
EB4
EB-4 category is often used by workers coming to the US to work as part of a religious order or community
EB5
This category allows international investors who invest a minimum of either $900,000 or $1,800,000 in a profit making US company to gain lawful permanent residence popularly known as a Green Card in the US.
U.S FAMILY VISAS
Spouses [K-3 Visas]

Fiance [K-1 Visas]

Children [K-4 Visas]

Adopted Children

Siblings 

Parents 
For Visa Availability and to determine Final Action Dates - Refer to Department of State Visa Bulletin 
OTHER POPULAR VISAS
Green Card Lottery

F-1 and M-1 Student Visas

B-1 and B-2 Visitor Visas

J-1 Exchange Visitor Program Visa

O-Visas for Individuals with Extraordinary Ability or Achievement 

TN-1 Visa for Canadians
TN1 Visa - for Canadians  to Work in the USA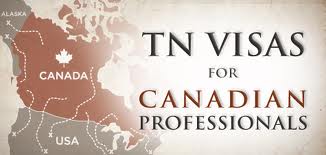 Canadians who want to work in the USA can use  the NAFTA "TN" (treaty national) visa program. The visa is available for most professional / skilled types of jobs and professions (see below). 

A qualifying TN employment offer is required from a qualifying US employer
The TN visa is not designed for self employment, or to set up a personal business.  

The TN Visa initially lasts one year, but is renewable indefinitely.

There is no limit or quota of TN visas that can be issued each year.  

The TN category offers Canadian professionals a fast track into the USA. Once in the US other options such as the H1B visa can be considered for a longer term stay 

TN Applicants may apply at border posts. US CBP should process your application within a few hours. 

If you are already in the US you can apply for TN status by mail through an USCIS regional processing center. 

The TN visa automatically expires upon application for permanent residence. If you have a TN and want a green card, change status to H1B or E treaty status before applying for the green card. 
TN Visa Benefits
Canadian nationals may obtain the NAFTA visa at the border. They do not require prior petition approval by the U.S. Citizenship and Immigration Services (USCIS) or a Labor Certification from the Department of Labor

Canadian professionals can maintain NAFTA visa status indefinitely by requesting extensions based upon their qualifying professional activity

You are entitled to request TD dependent visa status for your spouse and children under the age of 21. Your dependents may attend school as long as they continue to qualify under the TD visa classification criteria

You can freely travel in and out of the U.S. provided you have a valid TN status
TD (TN Dependent)
Dependents of TN employees (spouses or children) can be in the U.S. in TD (Trade Dependents) visa status. Generally, Canadian TDs do not need to obtain a TD visa, but non-Canadian TDs do.
[All applications for US visa(s) are dealt with in-house by an attorney licensed by the bar association in USA and a member of the American Immigration Lawyers Association]

"Contact us for detailed information and assistance on any of the above services"