2019 was another record-breaking year for Canadian tourism as we welcomed 22.1 million international arrivals, according to Statistics Canada. From coast to coast to coast, tourism helped to support 1 in 10 jobs that contributed $43.5B to our Gross Domestic Product.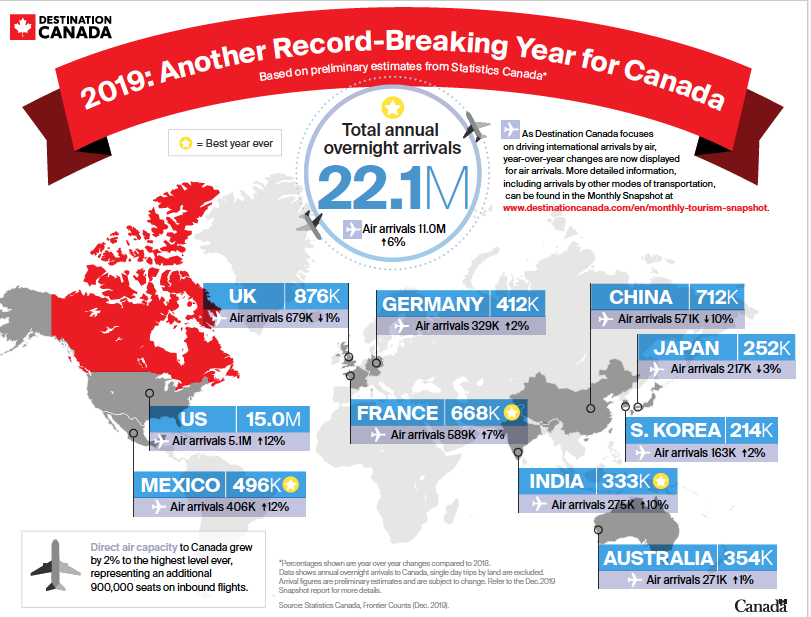 2019 was the best year for Canadian tourism on record, with arrivals reaching 22.1 million, breaking the 22 million mark for the first time ever.

Overnight arrivals to Canada from countries other than the United States reached an all-time high of 7.15 million (2018: 6.7 million). Overseas tourists typically stay in Canada longer and spend more, helping to achieve Destination Canada's high-yield strategy.

The United States saw a strong year in air arrivals with 5.1 million (2018: 4.6 million) and a solid rebound in automobile crossings with 8.5 million (2018: 8.2 million). Overall, the US had another record-breaking year with 14.99 million total arrivals.

Mexico once again experienced impressive growth with 495,627 total arrivals, with a particularly notable increase of 12.4% in air arrivals. The Mexican market has continued to grow since changes to visa requirements at the end of 2016, which spurred demand for travel to Canada, prompting airlines to increase air service.

India saw an 9.7% increase in air arrivals helping achieve a new annual record for this market with 333,111 arrivals (2018: 287,416).

Improvements in international air access to Canada helped stimulate travel with non-stop air services adding 2.2% more seats in 2019.