Minister of Immigration, Refugees and Citizenship, today highlighted ongoing work to strengthen Canada's immigration system and reduce application backlogs, with a focus on addressing labour shortages, improving client experience, and reuniting families.
As part of this plan, the Minister announced that Immigration, Refugees and Citizenship Canada (IRCC) will have hired up to 1,250 new employees by the end of the fall to increase our processing capacity and tackle the backlogs in the short term, while we take action to make our system more sustainable in the long term.
These new hires, as well as support provided through the $85 million from the Economic and Fiscal Update 2021, have allowed us to reduce wait times and return to pre-pandemic service standards for new clients in critical areas, including the six-month service standard for the Express Entry permanent residence pathway, the 12-month service standard for family reunification through spousal sponsorship, and permanent resident cards.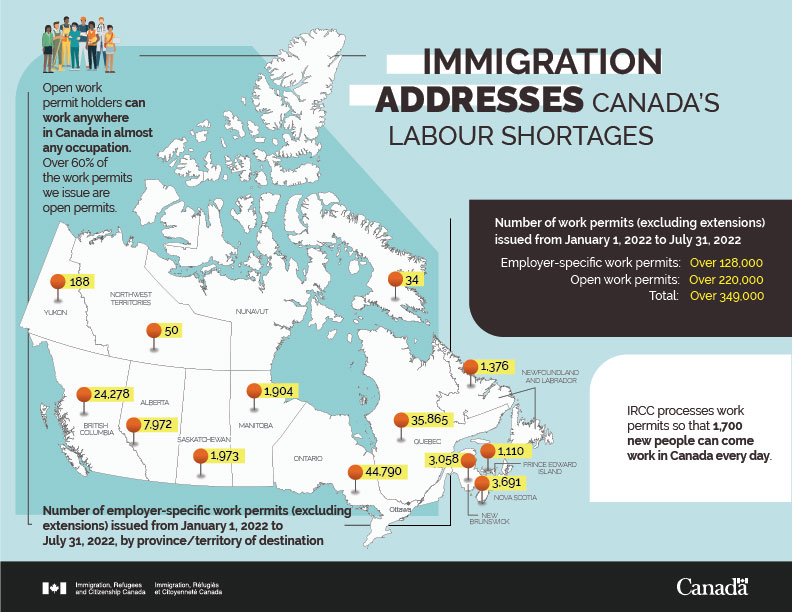 With unprecedented interest in Canada from applicants all over the world, IRCC continues to set the bar higher for immigration processing.
In 2021, we set a historic record by admitting more than 405,000 new permanent residents to Canada. Our target for 2022 is to welcome 431,000 permanent residents, and we are well on our way to achieving it, with approximately 275,000 admissions from January 1 to July 31—a number reached faster than in any previous year.
Quick facts
At any given time, IRCC is managing over 1 million applications from our inventories. In 2021, we finalized 1.7 million applications across all lines of business.