Priority Dates
The first term that you'll hear thrown around is the priority date. Each person who files a petition with the USCIS receives a priority date, which is the day that the government obtained your petition. A priority date establishes a person's place in line to get an immigrant visa. Keep this date handy since you will need it to compare to the dates found in this bulletin. Remember that your priority date does not move, and you cannot change it except under certain circumstances.
Note: Priority dates are not relevant for immediate relatives of U.S. Citizens (e.g. – spouses or minor children) as that category is always current.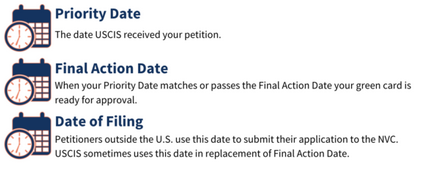 Final Action Dates
Final action dates are based on both the green card category and the chargeability area—your country of origin. The final action dates are constantly changing based on how many people from each chargeability area have petitioned for that particular green card.
If the limit for that green card has not been reached, then the final action date will likely move forward, closer to your priority date. If the limit has been reached, then you will not see any movement from that final action date. If the limit has been passed, you may see the date retrogress or move backward away from your priority date.
Once the final action date in your green card preference level and chargeability area reaches your priority date, your priority date will be considered "current," and you will be able to adjust your status or go through consular processing to obtain your green card. Some of the dates are already current, which means that you can get your green card as soon as your petition is approved without having to wait for your priority date.
Date for Filing Charts and I-485
You'll notice two charts below for each category.
The Date for Filing chart determines whether or not one can submit the final immigrant visa application.
The Final Action Date chart indicates whether or not it is expected that an immigrant visa number will be available.
If you need to file an adjustment of status, Form I-485, you need to follow the Final Action Date chart to know when you can file it based on your priority date. However, sometimes USCIS will note that they'll accept I-485s based on the Date for Filing chart. This is done when there are more immigrant visas available than applicants.
USCIS announces which chart applicants can use within a week of the visa bulletin's release.
Can You Shorten Your Waiting Time? 
There are two main cases in which you may be able to shorten your green card processing time:
First -  to file an I-140 for a green card and chargeability area with a current priority date. In this case, rather than have to wait the usual six months for your petition to be processed, you can opt to pay an additional fee for premium processing, which will shorten the processing time to 15 calendar days. However, this is only available for certain green cards that use the I-140. It is not available for family- or investment-based immigration and is also not available for the EB-1C or EB-2 NIW.
Second -  Green card "porting," or transferring your application from a lower preference level to a higher one to take advantage of the shorter waiting times. This is a bit misleading because you don't actually port your green card. In reality, you need to start over with a new petition (and a new PERM if necessary). The "porting" aspect only comes in when you indicate that you would like to retain your original priority date.
As attractive as "porting" might seem, it is a very delicate process with particular requirements.
It is always a good idea to run decisions like these through your immigration attorney.